Hip Hop Beats. Rap Music. Hip Hop interviews
Native American Music. Native Hip Hop. Indigenous Beats
News
---
---
Few and far between, but something's finally here. Check out the player below.
Download it on our Mp3 Downloads page
---
---
Check out this from RezRap Records. Baby Shel x Garlic Brown – I.I.R.E.M. Mixtape.

Download Mixtape
---
---
Beat Nation reflects a generation of artists who juxtapose urban youth culture with Aboriginal identity in entirely innovative and unexpected ways. Using hip hop and other forms of popular culture, artists create surprising new cultural hybrids in painting, sculpture, installation, performance and video that reflect the changing demographics of Aboriginal people today.
Check out their website: http://www.vanartgallery.bc.ca/the_exhibitions/exhibit_beat_nation.html
---
---
M.O. & Geothermal MC are pleased to announce their submission for the 2011 Aboriginal People's Choice Music Awards. Visit their page at (http://aboriginalpeopleschoice.com/artists/m-o-geothermal-mc/). Registration is open now, and voting began July 14th, 2011. M.O. & Geothermal MC are eligible for Best Duo or Group, 'Muskox ft. Kinnie Starr' for Single of the Year, and 'String Games' for Best Rap/Hip Hop CD.
M.O. is the only Inuk from Nunavut to have an entry eligible for voting at this year's event. Also look for Elisapie Isaac (Nunavik Inuk) in the Pop CD category.
M.O.'s first CD 'Eskimocentricity' did not make it beyond the preliminary rounds in 2010, but seeing as M.O. was the first Inuk rapper eligible for nomination in the Best New Artist category, and Eskimocentricity the first solo Inuk album eligible in the Best Rap/Hip Hop CD category, M.O. & Geothermal MC are hoping for better things with 'String Games'. M.O. laid out many 'firsts' for Canadian Inuit rappers with the 2009 release of 'Eskimocentricity', and 'String Games' looks to be adding to the list.
M.O. was born in Iqaluit, Nunavut (Frobisher Bay, NWT at the time) during the coldest November in the town's recorded history. A product of an Inuk mother and a Brooklynite father, he and two sisters were raised by their father in Iqaluit and in Vancouver, BC. It was in B.C. that M.O. met Geothermal MC and the two became life-long friends, so it was natural for M.O. to invite Geothermal MC as a special guest on 'Eskimocentricity'.
The duo of M.O. & Geothermal MC have been influenced by a wide-array of sources, from classical Indian sitar music to classic rock music, Inuit culture to hip hop culture, Kool Moe Dee to Sage Francis; but their lyrics and sound are unique, and very much their own!
---
---
Born in 1983 in the small community of Pikogan Abitibi-Témiscamingue, Samian, whose name is simply the Algonquin translation of his name 'Samuel' is a mongrel who has chosen rap as his mode of expression.
In his writing, he offers a personal interpretation of his life, identity and history of his people. In addition to incorporating drums and native songs to contemporary hip hop rhythms, he worked with his grandmother to include the language of their ancestors and offer a hip hop true to the reality of his community.
Being from Quebec, Canada – his raps are in French.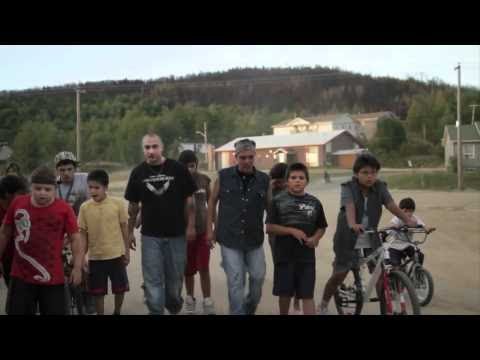 Check out his website at: http://www.samian.ca/
---
---
For native people involved in the hip-hop industry such as dancers, rappers, DJ's, producers etc, this might help ya gain some exposure:
I am doing research and writing my dissertation on Natives and Hip Hop…I want to create a database of all Native Hip Hop artists (rap, dance, graf, dj, etc.)

Anybody that wants to be included can e-mail me and I will take it from there.  It will potentially be published in a book… Thanks so much

Melissa Leal – missjanet14@yahoo.com